2011-08-02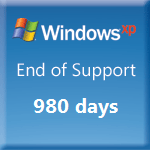 The Windows XP End of Support Countdown Gadget gives you a nice countdown until Windows XP, and, more importantly, IE6 will actually finally be unsupported.
It, however, leaks memory. A lot of memory; about 1kb/second. Noting that it's running all the time, and not important, this is rather inconvenient.
FTFY. Can't redistribute a patched "binary" as the original is not redistributable.